ART
Paintings 2021-22
Recent painting work has its own page.

Art – Writing and Reviewing
2019 Christine Keeler, exhibition review https://morningstaronline.co.uk/article/c/image-restoration-vane-gallery-pix-come
2018 Interview with artist Jo Wonder
http://internationaltimes.it/interview-with-artist-jowonder/
2017 Interview with Steve Lowe for International Times
http://internationaltimes.it/the-interrogation-of-steve-lowe-l-13/
2017 Interview with Sarah Shaw, winner of the British Women Artists' Competition, for International Times http://internationaltimes.it/sarah-shaw-british-women-artists-competition-winner-interviewed/
2016 Paul Nash - artist of peace and wonder caught up in war
http://noglory.org/index.php/articles/reviews/582-paul-nash-artist-of-peace-and-wonder-caught-up-in-war
2014 National Gallery's 14-18 exhibition review
http://noglory.org/index.php/articles/reviews/186-a-missed-opportunity-at-the-national-portrait-gallery-1914-18-centenary-exhibition
2014 Review of War Toys by Steve Hurst http://noglory.org/index.php/articles/reviews/254-london-exhibition-war-toys-by-steve-hurst
Art curating and other
Jan Woolf has her own art history – training as a painter with Stanislaw Frenkiel, www.frenkielart.com. She intends to get back to it some day. Meanwhile, she curates shows and auctions, taking an interest in art with a political edge.
2013 Women's Erotic Art Competition
Jan was one of the three judges of this international art competition.
www.womenseroticart.com/gallery.php

2013 Silver Action, Tate Modern
Jan was one of 400 women over the age of sixty who participated in Suzanne Lacey's work Silver Action, which was performed at Tate Modern, 3 February 2013. www.guardian.co.uk

2012 British Women Art Competition
Jan was one of three judges for this art competition.
www.britishwomenartists.com/competition-2012.php
2008 Rebels and Trouble Makers, City Hall, London
An exhibition of portraits of bloody-minded individuals who put, say, do, what they believe to be right above what is convenient or comfortable. In addition to newly commissioned photographs of Peter Tatchell, Harold Pinter, Sivanandan and Doreen Lawrence by Geoff Woolf. www.geoffwoolfphotos.com
Also exhibited were painted portraits by Jolie Goodman of Walter Wolfgang, Helen John and Brain Haw. www.joliegoodman.co.uk
The exhibition also showed the 'revolting public' at its best. People, young and old, protesting wars, cuts, and injustice formed the major part of this exhibition.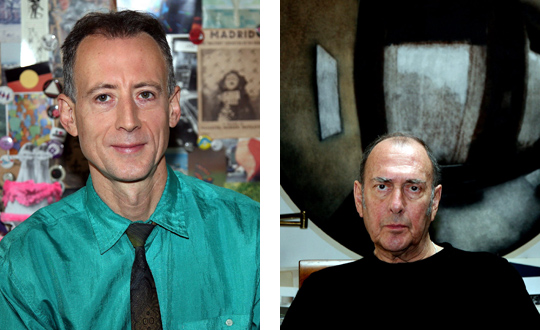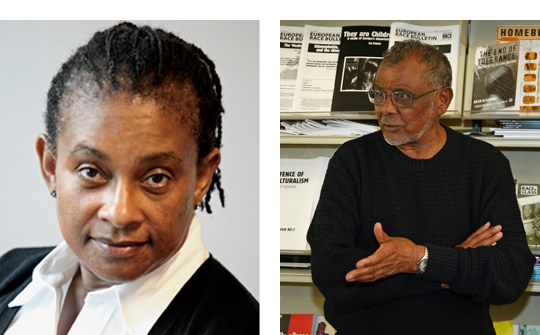 Peter Thatchell, Harold Pinter, Doreen Lawrence and Sivanandan. Photographs by Geoff Woolf
2009 SIT, Hackney Empire, London
Jan Woolf writes: 'The exhibition Rebels and Trouble Makers moved into the Harold Pinter Room at the Hackney Empire in 2009. I wanted to contribute something myself and an idea for an installation for the corner of the room formed as I looked at the boxes of new Pinter plays and books donated by his agent Judy Daish.
'I unpacked them and put them in the old white painted bookshelf. Next the armchair: found the previous week in a skip in Mare Street, Hackney. It smelled a bit but was so evocative of 1940s sitting rooms – I had to have it, and two kind Hackney Empire stage hands helped me lug it up to the HP room.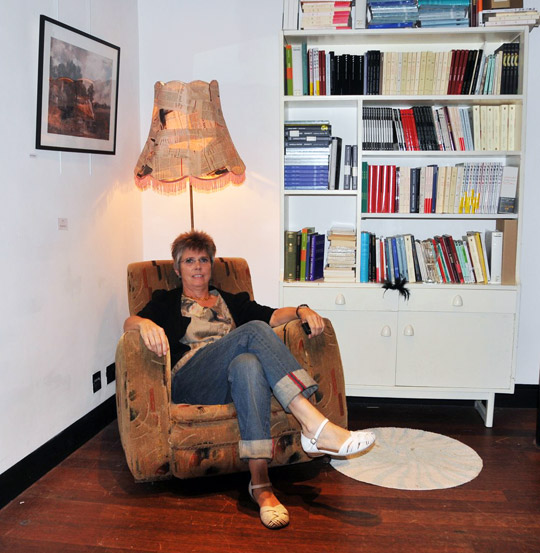 'I imagined the boy Pinter sitting in a chair like this in his Hackney sitting room, listening to the radio, scowling, cooking up ideas. The lampshade was harder as it had to be made, not just placed. I found one of those 60s suburban lampshades in a charity shop, ripped the fabric off and collaged over the spaces with pink Financial Times paper. I chose articles and pictures that showed the world at its worst, stuff that would have enraged Pinter, fueling his more political plays. Peter Kennard's work influenced this. He – like Pinter is another stroppy bloke I admire for political conviction, artistic genius and clarity. The lampshade is nicely accompanied by a framed print of Peter Kennard's 'Haywain with Cruise Missiles' – one of the most powerful photomontages ever. It's in the V&A Museum  and now I had it in my SITting room. A place to SIT and contemplate and feel uncomfortable about the world, and scheme how to make it better. The mat is borrowed from my bathroom, and the person doing the sitting is me.' 
2009 Museum of Optography by Derek Ogbourne, Hackney Empire, London
Jan became intrigued by artist and filmmaker Derek Ogbourne's fascination with the eye. His work 'The Museum of Optography' examines, as an installation (and a book) 'the last image seen at the moment of death.' This exhibition, which was produced by Woolf contained a wide, beautiful and skillfully executed series of works on the mysteries of the eye. www.derekogbourne.net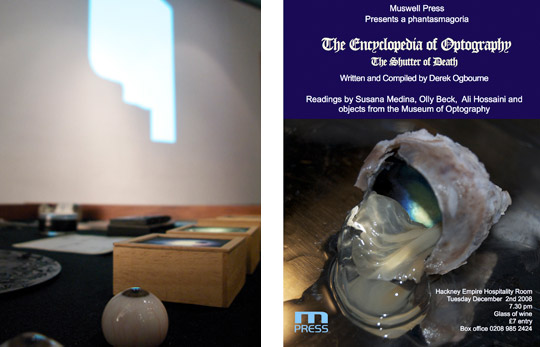 2008 Other People, Hackney Empire Mary Lloyd Bar, London
A photography show Jan Woolf curated with eastlondonphotographers.com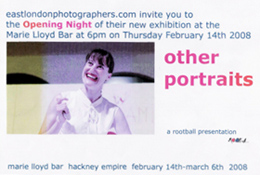 Art – Making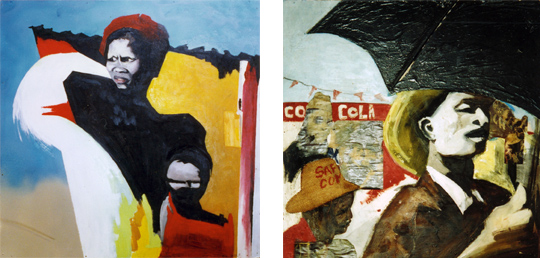 Two old paintings by Jan Woolf. Dates withheld out of shame.
The one on the left was exhibited in Come and See: an exhibition of artists responses to the Gulf war at the Kufa Gallery London, 1991. Jan curated this with Jenni Boswell Jones and Ismael Saray, after which the Visual Artists branch of BECTU was formed.