THEATRE
Ten
7 April 2013 Royal Court, Jerwood Theatre, London SW3.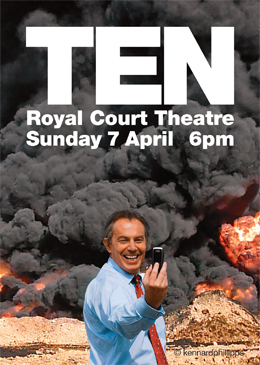 A benefit evening of ten 10-minute pieces to commemorate the 10th anniversary of the invasion of Iraq – and to celebrate our enduring anti-war movement. New plays, poetry, comedy and performance from Nick Bailey, Richard Bradbury, Aidan Casey, Janie Dee, Stella Duffy, Brian Eno, Alan Franks, Peter Kennard, Muzz Khan, Shappi Khorsandi, Roger Lloyd-Pack, Peter Lynam, Ahmed Mukhtar, David Mumeni, Shelley Silas, Ralf Togneri, Tim West, Saadi Yusef and many more.
Jan Woolf's ten minute play You Don't Know What You Don't Know, was performed by Lynsey Baxter, Jane Lapataire and Timothy West and directed by Corin Campbell-Hill.
Launch of the Harold Pinter writers residency and opening of the Harold Pinter room
Address by Jan Woolf, Hackney Empire. 16 June 2010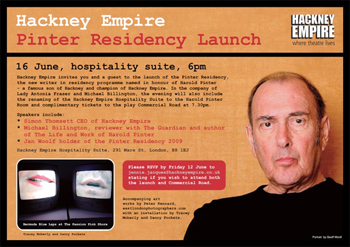 'I met Harold Pinter several times as one of the many activists and artists working with him during the decade spanning the two Gulf wars. I'll never forget his reading at the 'Naming of the Dead' in Trafalgar Square, a commemorative event organised the night before Bush's re-election. He read each Iraqi name as if it were a carefully chosen word for a poem, each name heavy with the significance, individuality and importance of that life. A quality carried in his art.

The nearest I can come to a personal anecdote about Harold Pinter comes from the 'London Says Not in Our Name' performances at City Hall, just before the invasion of Iraq in 2003. Reading his poem 'American Football' with an angry clarity, he projected his voice from his heart and guts, right into, I felt, 10 Downing Street. It was electric. Towards the end of the evening he asked me to call a taxi, and show him the way out of this rather complex building. (You probably know that City Hall is designed as a spiral, like an elegant snail.) When the cabbie phoned, I knew I'd have Harold Pinter all to myself for five minutes. Would I ask him about the mysteries of The Caretaker? His feelings about the first review of the Birthday Party? Or perhaps a chat about the current political situation. I decided not to talk to him at all; he was tired and deserved silence after the chatter of the reception. I was concentrating so hard on my gift of silence that we spiralled down, past the Chamber, past the exit, and into the boiler room, a surreal bunker of pipes, tanks and gurgling sound. It was as if we'd walked into the entrails of a weird beast. He looked around, shrugged, and said, 'You know, if they go ahead with the invasion there'll be civil disobedience in this country?' I agreed and we spiralled up again to the waiting taxi. The civil disobedience didn't happen, but I knew that despite his growing frailty he would have been among the first on the streets.

I've come relatively late to writing. Years of activism and working with troubled kids – most of them in Hackney – has given me rich material, and it's an honour to be writing in Harold Pinter's name. He has so much to teach writers; that elegance and balance of free flowing instinct with the conscious organising self, his extraordinary receptivity to the mysteries of the interior world - and passionate engagement with the external.

One of Pinter's great gifts to us is the exposure of the language of institutions, and how people do, or do not act because of that language. This is of particular interest to me. Talking of institutions. I love this one; the Hackney Empire, the National Theatre of the East End where Harold Pinter was president of the refurbishment appeal. I'd like to thank Frank Sweeney and Simon Thompsett for agreeing to the idea of the Harold Pinter room, ('room' is so evocative of Pinter that we avoided studio, and the very post modern 'space'). I'd also like to thank Roland and Claire Muldoon whose visionary work and political commitment brought the theatre from a Bingo hall to a major London theatre, and the point where there can be a writer in residence.

Interesting things are already happening in this room. A group called 'Writing the Visual' meet monthly to workshop fiction that engages with the visual arts, and we've had a series of fascinating readings, 'Illuminations'; dealing with the difficult and 'unthinkable'. Both projects, I'm sure, would have been championed by Harold Pinter.

At the end of his Nobel acceptance speech he said this;

'A writer's life is a highly vulnerable, almost naked activity. We don't have to weep about that. The writer makes his choice and is stuck with it. But it is true to say that you are open to all the winds, some of them icy indeed. You are out on your own, out on a limb. You find no shelter or protection – unless you lie – in which case of course you have constructed your own protection and, it could be argued, become a politician.'

I intend to keep this close to my heart. Today is also Bloomsday, when Harold Pinter celebrated the work of his beloved James Joyce. Perhaps June 16 can be Pinter day, when Hackney honours this most important and cherished son.

I've been asked to read a short extract from my forthcoming story collection Fugues on a Funny Bone. This one is about another Hackney lad – Jordan Meadows, growing up in are and bunking off from his pupil referral unit, to avoid taking a test. Jordan is off to do a drugs drop instead and meets his friend Marcus on the river Lea towpath.

Read.
Jordan walks on, bouncing on the balls of his feet, down the river Lea towpath, his anger like a waking animal. A swan tries to get into the air, splashing; running on the water. Jordan watches, fascinated, willing it to fly
'Go on, get up. Flap. Flap' he yells. The swan lifts its body; wings beating the air. He stares at the bird, honking in its triumph, orange feet trailing, drops of water catching the sunlight, and feels suddenly tearful. He picks up a stick and slashes at a clump of brambles as a hooded figure looms out of the morning sun. 'Yeah Jord. Goin' PRU?' Jordan can hardly contain his joy. It's Marcus. His friend. Yet his smile is slow to break. Marcus tenses at the slashing stick, and Jordan catches the look.
'Fuck off wanker'.
'Fuck off you'.

'Yer mum'.
'YOUR mum'.
'I'm yer dad'.
'Got any stuff?
'Later yeah but not for you you cunt.'
'Bastard'
Gnats dance around Marcus's disappearing head like cake crumbs in the heavy air. Jordan feels bereft and thinks of wildlife. Is Marcus wildlife? 'Oi Marcus, come back. Come back'. He yells at his friend, off to the PupilReferral Unit special assembly, chancing it with his SATs like some geek.

'Oi come back', his voice breaks. Two joggers thump past and a woman empties her dog. She picks up the defecation with a small black plastic bag turns it inside out and knots it at the neck. Jordan feels sick, the bag reminds him of the package of heroin in his jeans. He tried some once, but it filled up the place inside him, just under his ribs, where his mum was; like a small healthy animal waiting in the dark for its release. But the skunk yes, it made him fly. Fly like that swan. He walks on. His phone is due to ring and he wonders if he'll be able to tell its sound from the birds chirping in the bushes.' He giggles at the thought of snatching a bird from a bush and putting it to his ear, 'mobile birds innit? And laughs for the first time that day. The phone trembles against his thigh.
'Comin yeah?'

Jordan, excited, wants to shit like the dog.
'That's Me. I'm done. Now Michael Billington will speak.'
Plays
2013 You Don't Know What You Don't Know, written by Jan Woolf, directed by Corin Campbell-Hill, performed by Lynsey Baxter, Jane Lapataire and Timothy West (part of Ten, see above).
'A gem.'
Heathcote Williams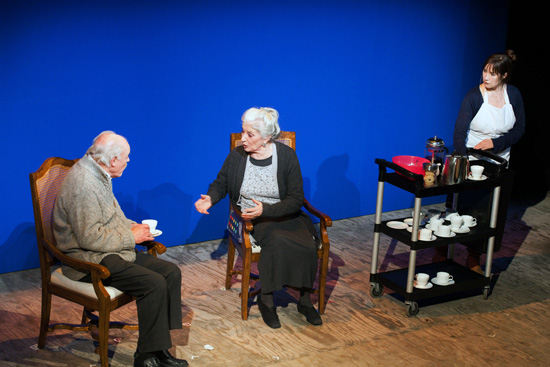 Timothy West, Lynsey Baxter and Jane Lapataire in You Don't Know What You Don't Know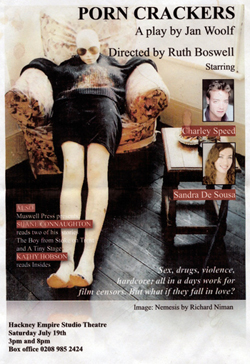 2008 Porn Crackers, written by Jan Woolf, directed by Ruth Boswell, starring Charley Speed and Sandra de Sousa. Hackney Empire, London
Porn Crackers was an all too plausible drama based on Woolf's time as a film censor in 2001, and drawn from her short story 'Soho Square', published in Libbon magazine and included in Fugues on a Funny Bone.
2007 Become a Man, written by Richard Bradbury, drawn from his novel Riversmeet (Muswell Press), directed by Lunga Powel, produced by Jan Woolf. City Hall and Hackney Empire, London
Become a Man was performed at City Hall for the GLA of the bicentenary of the abolition of slavery commemorations and at Hackney Empire Studio theatre for Black History Month 2007.
2000 Alchemy of Desire, written by Caridid Svich, produced by Jan Woolf. Hackney Empire Studios, London
1998 Sphinx, written by Jan Woolf, directed by Riggs O'Hara, starring Bianca Joseph and Andrew Christian. Performed as part of Lost & Found – Hackney Empire's first short play festival
Sphinx is an encounter between an angel (ie a very naughty dead boy) and a teenage girl.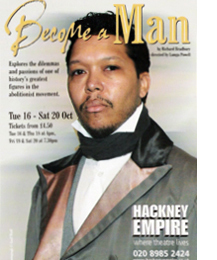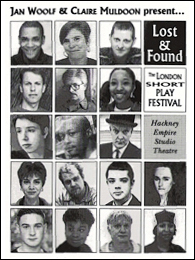 Posters for Become A Man and Lost & Found